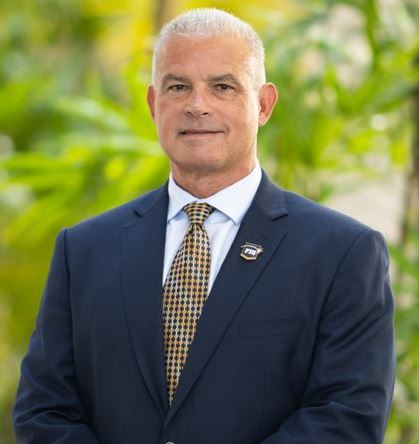 Joe Fernandez
Senior Director / Division of Operations and Safety & AIDP
---
Phone: 305-348-5153
Email: jrfernan@fiu.edu
Joe was born and raised in the greater Miami area and has served his entire professional career in South Florida. Over his 35-year career, Joe has held numerous progressively responsible positions in the field of local/regional government, public safety/emergency services and public administration. Joe recently retired as the Fire Chief for Broward County Sheriff's Office (BSOFR) after 10 years of service which included serving as Deputy Fire Chief for 6 of those years. Throughout his tenure there, he was also responsible for Emergency Management at the BSOFR. BSOFR is a metropolitan sized fire rescue agency serving various contract cities, unincorporated Broward County as well specialized Technical Rescue, Hazardous Materials, Air Rescue services and Aircraft Firefighting and industrial petrochemical services to the Fort Lauderdale-Hollywood International airport and Port Everglades respectively, which is one of the busiest cruise ports in the world.

Prior to his retirement as Fire Chief of BSOFR he served as Fire Chief for the City of Dania Beach, Florida. As Dania Beach Fire Chief, he led the merger of municipal services of Dania Beach with the BSOFR where he subsequently transitioned in the position of Deputy Chief of Operations. Prior to his service as Fire Chief of Dania Beach he served most of his fire service career with the City of Miami Department of Fire-Rescue. During his career with the City of Miami, he served in the civil service capacity of: Firefighter, Paramedic, Lieutenant, Captain, and District Chief/Chief Fire Officer. He was appointed to the executive management position of Assistant Fire Chief in November 2000 and served in that capacity within three separate Divisions of this metropolitan department until his retirement and to accept the appointment as Fire Chief of Dania Beach.

The majority of Joe's career has been focused on the discipline of emergency management and homeland security. For more than 10 years he served as the City of Miami's Emergency Manager and Chief of the Division of Emergency Management (DEM). His role in Miami's DEM encompassed the duties of the Public Affairs Chief, Emergency Manager, and Recovery and Hazard Mitigation Administrator. On July of 2003, he was appointed Miami Urban Area Security Initiative (UASI) Administrator. During his tenure as the UASI Administrator, he was directly responsible for managing a $96 million dollar grant program impacting a four-county area that required a high degree of multi-discipline and multi- jurisdictional coordination and leadership skills.

His career with the City of Miami exposed him to all facets of the fire and emergency medical service delivery and training as well as a significant immersion in the areas of emergency management and homeland security. He also served in the capacity of Task Force leader (TFL) for FEMA. Joe also served as Task Force Leader for FEMA Urban Search and Rescue (USAR) on two of the most significant natural disasters in modern history - Gulfport Mississippi and New Orleans Louisiana in the aftermath of Hurricane Katrina and the aftermath of the Earthquake in Port Au Prince, Haiti.